Personal Injury Reform: Law Society Encourages Action
Last month the government proposed changes to personal injury cases, specifically:
to raise the small claims limit for personal injury from £1000 to £5000
to stop or reduce radically compensation payments for minor soft tissue injuries, including whiplash, arising from road traffic accidents.
This will result in all personal injury claims worth £5000 and under being processed under the small claims track, this despite the fact that the small claims system was designed to handle low value disputes such as faulty goods or unpaid invoices. Furthermore, in most cases the court will not award costs to the claimant in the event their claim is successful.
Adding insult to injury?
The practical upshot of this is that, under the government's proposals, personal injuries that many would consider quite severe - for example facial scarring, fractured ribs or partial loss of a finger - will be handled by the same mechanism as claims for faulty washing machines and minor property damage.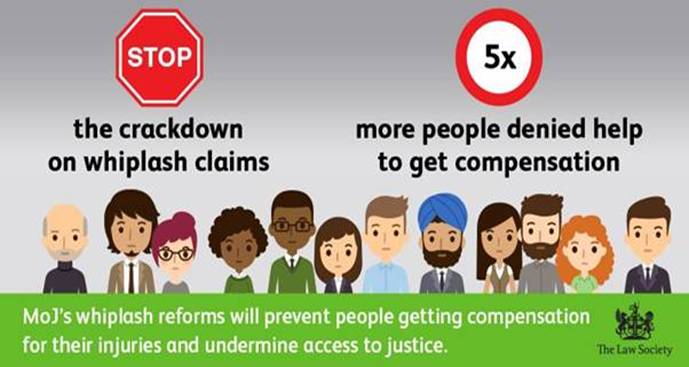 In addition, the lack of any real prospect of legal costs being covered means that most claimants deal with a small claim without legal help. This creates the very real possibility that - as the Law Society puts it:
people recovering from their injuries have no choice but to take a case without using a solicitor, usually against insurance companies who will always have an experienced litigator representing them [...] People need legal advice in order to bring claims for the compensation they are entitled to in law. [...] these proposals completely undermine the right of ordinary people to receive full and proper compensation from those that have injured them - quite seriously - through negligence.
The Law Society is therefore campaigning strongly to oppose the proposals. As part of this they have launched an online tool that allows you to quickly and easily contact your MP. They have also provided an online questionnaire that allows you to share your views with them, and are actively seeking case studies that will highlight the affects of the proposals. You can follow tweets about the campaign using hashtag #smallclaims
The government's consultation paper can be viewed here.